Anyone familiar with Vikan's product range today can see that the rest is history, so to speak. Vikan is known throughout the world as the leader in hygienic cleaning tools – tools that clean effectively over the long haul and can be kept clean, enabling them to also clean hygienically. An interesting aside in this connection is that sometimes it's not the materials that are used in a product, but the materials that are no longer used, that make the difference. For instance, by doing away with staples and resin, and using fully moulded bristles instead, our UST range has removed two potential food contaminants from the equation.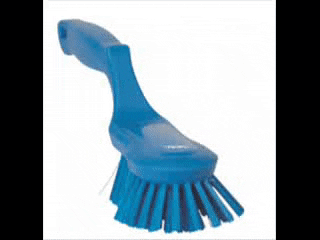 Today, cleaning tools that come into contact with food are subject to yet another materials-related requirement: food-contact compliance. Here too, Vikan is an industry leader, using only food-contact-compliant materials where applicable and, critically, making proof of this compliance readily available on-line in the uniquely detailed Declarations of Compliance we produce for every hygienic cleaning tool we make.

In the context of Vikan's history, the materials we have used – from wood and natural fibres on to plastic, food-contact-compliant plastic and nylon – have played a critical part in our leadership in hygienic cleaning tools for the food and beverages industry.
For more information, please contact us: (021) 758-759-88 or you can download the VIKAN appstore at this URL : Click Here